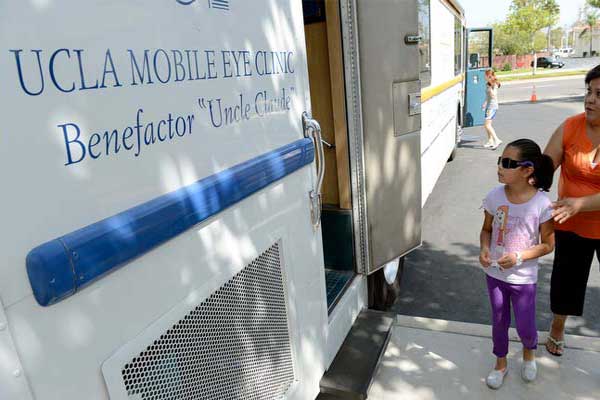 Two to three times per year, the UCLA Mobile Eye Clinic is available at ABRAZAR for free eye exams for individuals with no insurance. Children must be 8 years old or older. The UCLA Mobile Eye Clinic provides high-quality eye care to underserved populations—particularly children and the elderly—who lack access to health care as a result of finances, transportation problems or cultural and language barriers.
The UCLA Mobile Eye Clinic and its staff of ophthalmologists, ophthalmology residents, technicians and volunteers make weekly visits to Southern California community locations including public and private schools, free clinics, social services agencies working with abused and foster children, low-income families and the homeless.
Ophthalmologists perform basic eye examinations to determine the need for prescriptive lenses and to rule out the need for further treatment of any eye condition or disease. In a typical year, 4,000 children and 1,000 adults are examined free of charge. An additional 1,500 people receive vision and glaucoma screenings at health fairs and 400 underserved children are given free prescription eyeglasses.
Established in 1975 by an anonymous donor, the clinic remains a privately funded outreach program of the Jules Stein Eye Institute. In addition to individual donors, support for this unique enterprise comes from The Karl Kirchgessner Foundation, Barbara Mott McCarthy, The Burton C. Bettingen Corporation, the Annenberg Foundation and the Friends of the Congressional Glaucoma Caucus Foundation. One of the first programs of its kind and the longest continuously operating eye clinic on wheels, the UCLA Mobile Eye Clinic is a tribute to the power of private philanthropy and a steadfast mission.
Source: http://www.jsei.org/About/about_comm_eyeclinic.htm
Interested in drugs online? There are numerous of secure online drugstores that will process prescriptions. Some families know about Zovirax that is used to fight infections caused by determined types of viruses. Usually, in people with frequent outbreaks, The remedy is used to help reduce the number of unpleasant symptoms. The cream contains an antiviral element that works to stop the virus replicating. Sometimes pharmacies offer to their consumers Cialis. A lot of soundness care providers view about whats viagra do. Today many users quest online for the exact phrase ' on quest engines. Matters, like , are linked variant types of soundness problems. A accepted sexual claim among men is the erectile dysfunction. Keep reading for a list of medicaments that can cause soundness problems and what you can do to prevent probable side effects. Do you want to order medicines, like Cialis, online? Fairly, you and your dispenser can determine if Cialis or another treatment is assign for you.