Transportation Department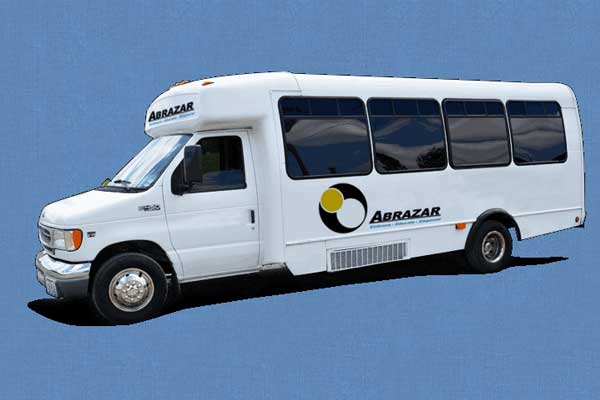 ABRAZAR currently has four separate senior transportation programs: Senior Non-Emergency Medical Transportation (SNEMT), Adult Day Health Care (ADHC), Senior Mobility, and Job Access Reverse Commute (JARC).
Senior Non-emergency Medical Transportation Program
The Senior Non-emergency Medical Transportation Program provides senior citizens access to any non-emergency medical appointments including but not limited to appointments for mental and physical therapy, doctors, dental, laboratory, infusion centers, dialysis and health education. ABRAZAR provides over 48,000 trips annually for SNEMT.
Senior Mobility Program
ABRAZAR provides older adults with transportation to and from our congregate meal program, field trips, social services and social activities. ABRAZAR is one of only 4 non-profit organizations in Orange County that have contracted with the Orange County Transportation Authority to provide this service.
Senior Transportation to Adult Day Health Care (ADHC)
ABRAZAR started this program in December, 2006 to provide older adults with quality assistive transportation services to Acacia Adult Day Care Center and other Adult Day Health Care centers throughout Orange County.. The most important aspect of the program is the specialized assistive transportation services provided to the older adults attending Adult Day Health Care centers. ABRAZAR provides over 5,500 ADHC trips annually.
Job Access and Reverse Commute (JARC)
JARC program was established to address the unique transportation challenges faced by welfare recipients and low-income persons seeking to obtain and maintain employment.
ABRAZAR currently coordinates transportation services with a variety of non-profit and public agencies that provide services to older adults. Some of our major collaborations include: the City of Huntington Beach (Rodgers Senior Center), City of Westminster (Westminster on Wheels), South County Senior Services, Senior Connections, Acacia Adult Day Services, Caregivers Resource Center, Community SeniorServ, Westminster Family Resource Center, Boys & Girls Club of Westminster and the Office on Aging.
Notification of Title VI Protection - Transporation Programs.
Click to download document
Notification to the Public - English
Noificiation to the Public - Spanish
Notification to the Public - Vietnamese