Transportation Staff Training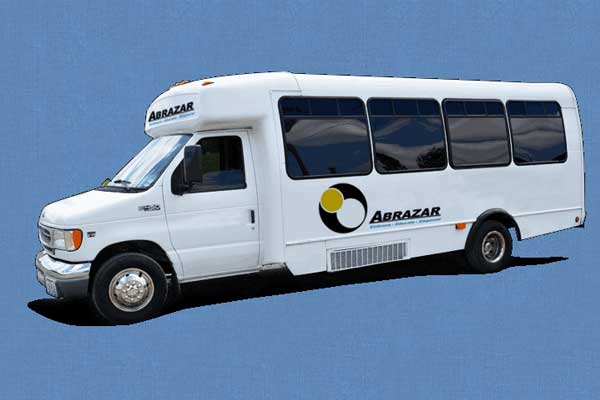 ABRAZAR provides continued in-house training organized by the Transportation Coordinator and schedules off-site training for the drivers. Updates on laws, road conditions, and senior matters are discussed by appropriate trainers and entities. Driver trainings are ongoing and include:
First Aid and CPR – Training by Shoreline Ambulance on the fourth Thursday of each month
Transporting Elderly & Disabled Passengers—Training by NonProfits United. Training will cover safe handling of manual wheelchairs (standard folding), motorized wheelchair and three-wheeled scooter; Boarding Ambulatory Passengers; Boarding the Vehicle Using Steps; Boarding Ambulatory Passengers on a Lift, Safety Belt Restraint Policy and Deboarding Ambulatory Passengers Using the Steps and On a Lift.
Americans With Disabilities Act –Basic ADA Regulations presented by Pat Piras of Piras Consulting
Vehicle Inspection and Maintenance –Presented by CalACT-Caltrans
Safe & Secure Training—Presented by Sure-Lok
In addition to these trainings, the result of our annual satisfaction surveys are shared and discussed with the drivers. Modifications are implemented if warranted. This training is performed in house (Transportation Coordinator and Senior Services Manager) and through contracted services.
Sensitivity training
ABRAZAR's Executive Director, Transportation Coordinator and the Senior Services Manager (over 25 years with ABRAZAR) provide sensitivity training to all our drivers. The training includes proper assistance of older adults while walking, addressing the language and cultural needs of our older adults. The Transportation Coordinator and the drivers are in constant communication to ensure that family members are aware of the senior's physical and/or mental changes/needs. Additionally, the results of our satisfaction surveys for the transportation programs are shared and discussed with the drivers. Modifications to the program or driver performance are implemented if warranted. ABRAZAR's collaborative partners that have extensive experience working with older adults and persons with disabilities also provide on-going training to our drivers and employees. These trainings are performed in house (Executive Director, Transportation Coordinator and Senior Services Manager) and through our collaborating partners.
First Aid/CPR and Emergency Preparedness:
Currently all of our drivers have gone through the First Aid/CPR training and are certified. Shoreline Ambulance service provides an on-going monthly training for new drivers and is scheduled on the 4th Thursday of each month. This ensures the annual certification required for our drivers and the majority of ABRAZAR's employees. ABRAZAR has an emergency and safety plan that all employees are trained in. These trainings are performed at no cost through services provided through our collaboration with Shoreline Ambulance and the local fire and police department.
Interested in drugs online? There are numerous of secure online drugstores that will process prescriptions. Some families know about Zovirax that is used to fight infections caused by determined types of viruses. Usually, in humanity with frequent outbreaks, The remedy is used to help reduce the number of unpleasant symptoms. The cream contains an antiviral ingredient that works to stop the virus replicating. Sometimes pharmacies offer to their consumers Cialis. A lot of health care providers consider about whats viagra do. Today many users search online for the exact phrase ' on quest engines. Matters, like , are linked variant types of health problems. A accepted sexual complaint among men is the erectile malfunction. Keep reading for a list of medicaments that can cause soundness problems and what you can do to prevent probable side effects. Do you want to order medicines, like Cialis, online? Fairly, you and your pharmacist can determine if Cialis or another curing is assign for you.